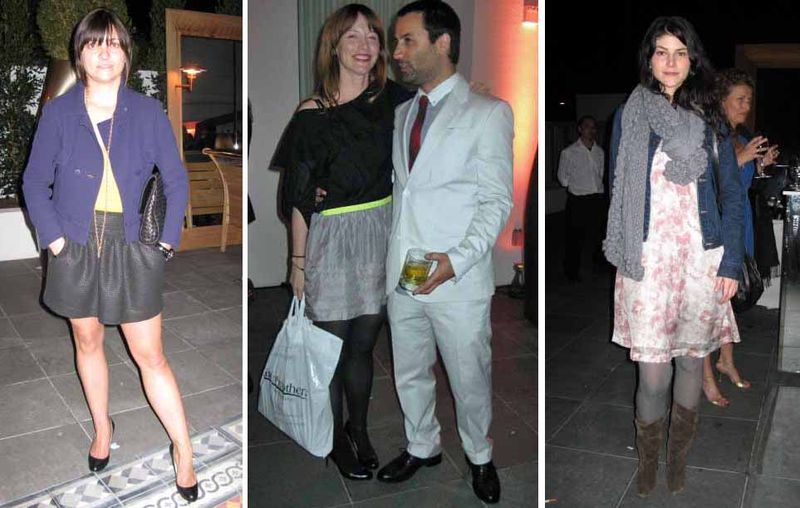 Geren Lockhart (Geren Ford); DailyCandy's Crystal Meers & Fiance Casey Storm; Laura Freedman (Broken English)
Last night's
Daily Candy
fete at
SLS
 felt like the official start to Fashion Week, though Gen Art's big bash is tonight.  
Blackburn + Sweetzer
offers some in depth coverage of the very civilized event (I think we both loved that the party was in walking distance from our respective abodes).  Previously at SLS, I'd mostly hung in the 
Philippe Starck
-designed 
Bazaar
, which is a carnival-esque public salon with cotton candy machines (sometimes served with fois gras–weirdly tasty, though I'm not a fois gras gal), molecular gastronomy-inspired mixology cocktail carts, chocolate-covered 
Pop Rocks
 at the "pink and frothy" patisserie and eclectic oddball objects at design boutique 
Moss
.
In fact, though I spent my wedding night at this hotel the night it opened, watched the Oscars here this year, attended an indulgent media dinner and even did a hard hat tour pre-opening, I'd never even seen the Garden Terrace, where DC's party went off.  Who knew?  Anyway, I got to hang with a lot of people I adore, who I only seldom get to see and then mostly for work.  Actually, rocking that yellow
Dolan
dress from my POCKET LINT "ABOUT" photo, I even ran into
Jodie Dolan
, who was a sweetie pie per usual and said she's super excited for the upcoming collection.  Also looking forward to checking out her new tee line soon–buzz on the street is bueno.
Sadly, B + S's accusation is quite true; I did guiltily snag one of the last gift bags (oops).  Walk over!  I'll share!  Well, the least I can do here is offer details about some of the contents with you, so ya'll know what the hipsters are gifting these socially-conscious days:
Alterna Hemp
with Organics hair products,
Activate Energy
vitamin water (which tastes just like slightly elevated agua, but which I think may actually effectively boost, as I'm suddenly feeling much less dumb),
Alternative Vintage
 tees,
Walter Mosley
's
The Long Fall
(I do heart mysteries),
DuWop
eyeshadow,
Foot Petals
ball-of-foot cushions (a.k.a. cute Dr. Scholl's inserts),
Fortnum & Mason
's Afternoon Tea and White Sugar Cubes (which is exciting for me cause I'm a grandma tea addict), a
Pinky Vodka
I.O.U. and gift certificates towards
Jimmy Jane
products and treatments at new Ciel spa at SLS.
Really, though, B + S should be thanking me cause, most dangerously, the gift bag also included two large
Milk & Krunchies
Toffee Mix Crispy Treat (a rice crispy treat oddly named for D.J. AM–I guess it's his favorite?)  Anyway, I saved you from temptation; a temptation that was too great for me, as I already ate one before bed last night.  Oops.
That was another button flying off my pants.  Another one bites the dust.
xo – N.