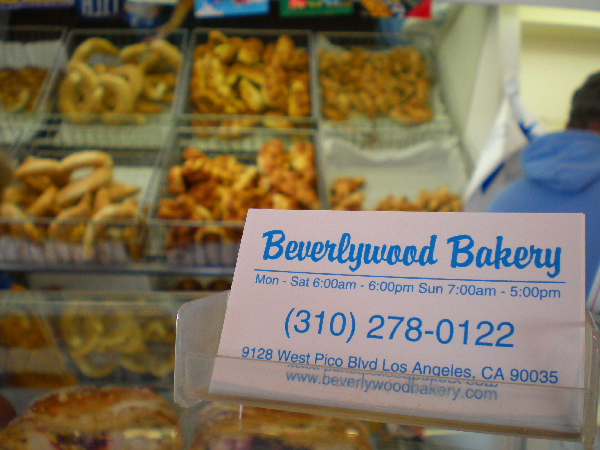 If you didn't know that Beverlywood existed
(and most non-locals are unaware), you might imagine the neighborhood's name was made up; an imaginary conflation of famous LA streets or a fantastic place where–defying the space time continuum–the Hollywood sign and Rodeo Drive exist side by side.
In fact, Beverlywood is a low-key mostly hassidic and orthodox jewish neighborhood just south of Beverly Hills. And, among other things, this area is home to one of the city's best jewish bakeries, aptly named
Beverlywood Bakery
.  And this ain't one of those newfangled cupcake spots.
Now, I know most east coasters lament the absence of good bagels, but (
as I've mentioned before
) a few more obscure treats are even more notably hard to fine, in my humble opinion.  Amazing cranberry muffins like the ones found at
Fairway
on Manhattan's Upper West Side (with
sour 
fresh cranberries to cut the sweetness of the cake) are one major hole.  Another missing link, though, is the salt stick, which was a major staple in my salt addicted household growing up.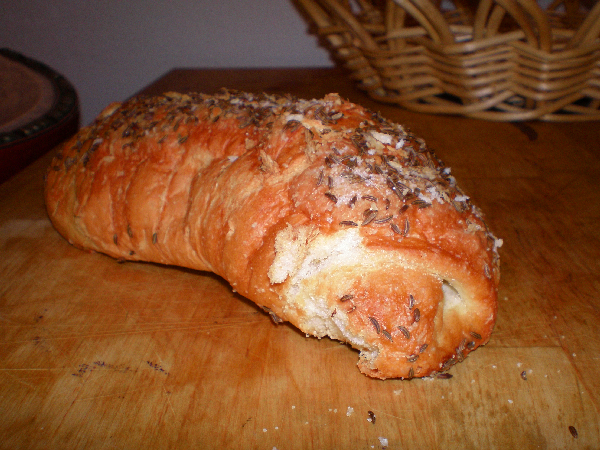 So call it nostalgia, a gut reaction to too many skinny models or just plain old hunger, but driving back from a fall collection preview (which is probably what I should actually be covering since it's Fashion Week–eh), I just had to stop at Beverlywood Bakery.
A salt stick, if you haven't had one, is a sort of buttery roll (see above) topped with kosher salt and caraway seeds.  And they happen to be one of life's great pleasures.  Beverlywood Bakery makes the best ones I've tasted in LA (crusty on the outside and perfectly doughy on the inside), along with delicious jewish cookies and all that related sweet, buttery jazz.
The bakery has been open since 1946, which is a particularly long time by LA standards. So, stop by and try one out for breakfast (cause by lunch, they're usually all gone).
After all, Beverly would.
xo – N.