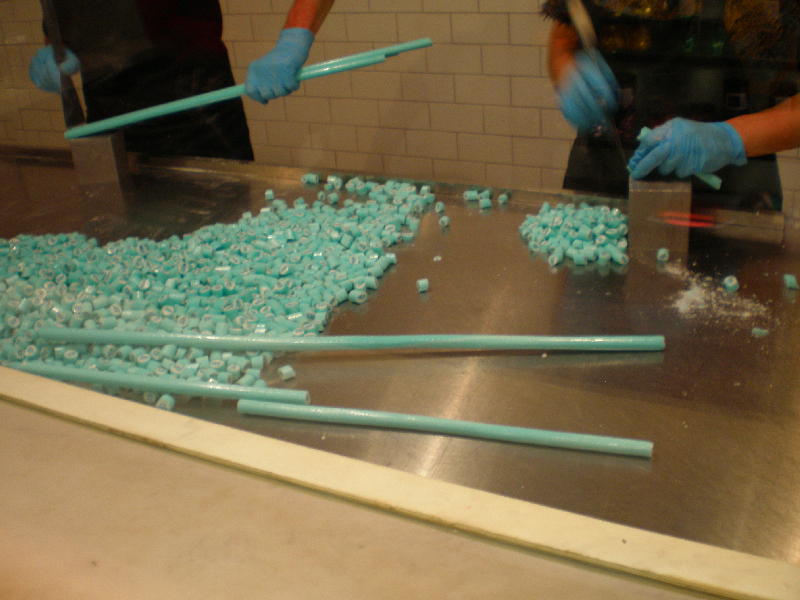 I am so damn behind on blogging that, not only am I writing about experiences from two trips ago, but you guys probably gave up on me two trips ago.  But, here I am again, for reals this time.  Not another trips for weeks.  Unless you count my trip to your mama's house.  Yeah.  I said it.
Who even knows what I'm talking about?  I am one Cherry Coke Zero away from losing my mind.
Anyway, I never covered my NYC journey really, so this week is all about the Big Apple.  Or, as I like to call it, um . . . New York?  Home?  I dunno.  Apparently I have nothing funny left in the arsenal.  So be it.
So, is it just me or every time I go home for a visit, is there some new weird dessert trend that's emerged specifically in a storefront on Broom?  Rice pudding, rock candy, frozen custard–whatever.  So, when I wandered with my fam (we were all in the old homestead at once) past Papabubble, I sort of scoffed at first.  But then my father, who is not much into passing up weird enticing food spots, urged us inside.
Basically, the company creates the most beautiful artisan hard candy that is literally cooked and chopped like so many vegetables right before your eyes.  The colors rarely seem to match the flavors, as Passion Fruit (a candy chef's suggestion and my personal favorite) is blue (see above), for instance, so cherry might easily be purple or green.  You get the picture.
Some of the more unusual flavors are, of course, the most interesting to me: some come with chili on top (and I LOVE a spicy candy sitch like The Chocolate Room's Red Chili chocolates in Brooklyn) and the soda flavors are filled with a sort of fizzy experience.  All and all, even if the candy didn't taste good, it looks absolutely gorgeous.
Plus, the website itself is just worth a sort of trippy minute and the store looks like a Willy Wonka apothecary.
Holiday gifts anyone?  Yeah.  I said it.
xo – N.