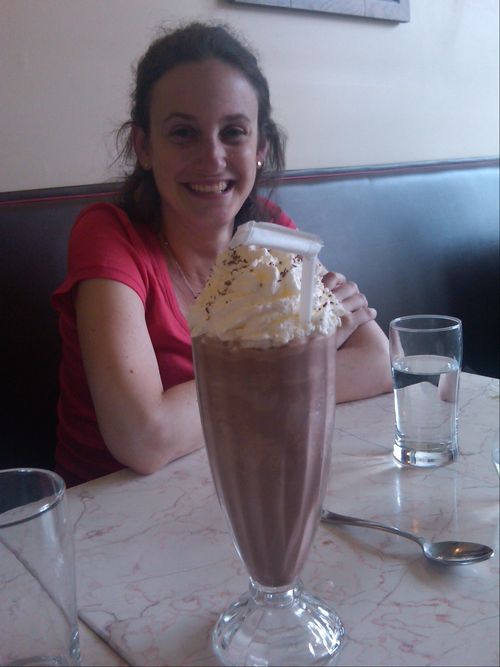 When S. & I were in middle school, we used to take excursions–especially during summer–to Bloomingdale's to shop for who knows what: Back-to-school clothing?  Converse high-tops in crazy patterns?  Calyx perfume?
Mostly, I think, our shopping trips revolved around our deep love of Serendipity's Potato Skins and Frozen Hot Chocolate.  We'd always go there after the department store.  Like visiting the Christmas tree at Rockefeller Center, this restaurant is both a tourist trap and a beloved local staple, at once an authentic NYC experience and a cheesy location.
Well, it's been a while since S. & I made it there.  She's preggers now and I'm a lactard, so we probably wouldn't have quite the same quality of experience.  Plus, though the Frozen Hot Chocolate is big, we've grown.  It would no longer appear quite as huge by comparison to our small frames.
We may not have known it, but we really needed a new Frozen Hot Chocolate destination, so to speak.  And though I first visited Park Slope's The Chocolate Room for chili-infused chocolates and the best chocolate sorbet of my life years ago, it wasn't until S., Z. & I hit the newer Cobble Hill location that I realized we'd found our new chocolate home.
S. & Z. ordered the above frozen hot chocolate equivalent with whipped cream, the Not Hot, and sucked that thing down right quick.  Now, The Chocolate Room just has to start selling potato skins.  This is 2010 in organic, sustainable and artisan-obsessed Brooklyn.  Maybe they can even make them with goat milk cheese and maple syrup soaked bacon.
Dare to dream.
Actually, in this bacon dessert-obsessed world, I guess S. & I were just ahead of our time.
Happy July 4th!
xo – N.