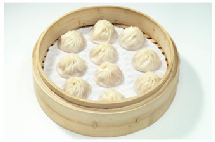 (lantern pic from Reuters)
Maybe this post should actually be called, "The Best Reason To Trek To Arcadia," but whatever.
For my grandmother's bday yesterday, we headed for soup dumplings at Arcadia's famous Din Tai Fung. Honestly, amazing.  Juicy pork dumpling (with broth inside) are, of course, the tastiest mofos around and the string beans are surprisingly amazing too (especially if you're craving some veggies to balance out all that meat and dough).  BUT, also, yesterday was Chinese New Year's Eve, so we ate Shanghai Rice Cake (Nian Gao) which is apparently a **good luck** tradition) in honor of the day!  (Image below–sorry, we couldn't wait to eat before we snapped the picture, but SO yummy).
Anyway, welcome The Year of the Ox, which symbolizes prosperity through hard work . . . which sounds about right, no?  Service to our community, right, Mr. Pres?
Actually, I just looked it up (cause I'm crazy) and Barack was born a Year of the Ox himself.  Fortuitous, no?
xo – N.