LA (THIRD STREET): THE BEST TOAST TO COAST
By Nora Zelevansky / February 18th, 2009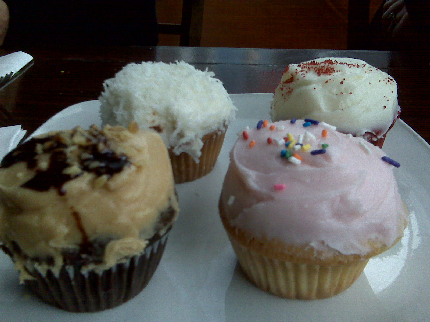 (Toast's Treats–I Know, I Know, You're Over Cupcakes, But Bear With Me)
Food, glorious food!
 It's been days.  I mean
days
.  So, here I am back to the topic of stuffing my little face (which may not be so little, if I keep scarfing food, glorious food).  But anyway . . .
Forgive me father (or whoever) for I forgot my trusty camera on this jaunt, so the pics are compliments of my Blackberry phone, which may or may not really do the eats justice.  Anyway, I went to a meeting the other day to discuss the soon-to-launch new Narciso Rodriguez fragrance, Essence (which, incidentally, is his first in six years and smells citrus-y and delish), with a New Yorker and an Angeleno, neither of whom had ever eaten at
Toast
.
Now, if you ask Andrew, the lines at Toast are prohibitive ("Just because the Olsen twits eat there–"), BUT, Sunday brunch notwithstanding, lunch lines are not
so
heinous and the food is actually kind of worth it.  (Also, the place is a hop, skip and a jump from my house on indie boutique-lined
Third Street
, so a no-brainer for wandering by foot).  Sure, the menu offers mostly your usual LA lunch fare (although quite a large selection), but the ingredients always taste super fresh and they happen to have the best fruit salad around: think fresh mango, blackberries and papaya.  I like the passion fruit iced tea too.
Anyway, I most often order the Chicken Chow Salad (see below), so that I have an excuse to consume either their AMAZING onion rings or their extra flavorful sweet potato fries.  (What? Sometimes a girl needs a side!)  Fries on the side . . .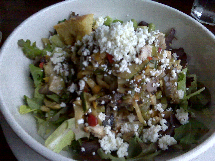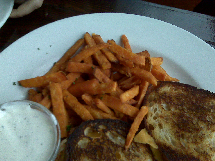 And, while I know many of us are BEYOND over cupcakes, my NYC lunch partner in crime rightfully 
had
to try some of Toast's famed baked goods, so we ordered (
ahem
)
FOUR
.  How else were we to truly sample? A focus group needs a wide range, no?
I have always been partial to
Doughboys
' Red Velvet cake, but since they closed their doors (sniff, sniff) last year, I haven't gotten around to actually ordering one via their site.  Turns out that Toast's Red Velvet Cupcake (which is such a popular cupcake flavor in LA that it should become the citywide mascot) is pretty damn good, though still not quite Doughboys.  (I know my friend, Lady Lo disagrees and is all about the Toast version though, right, Lo?)
And, while the chocolate peanut butter couldn't be bad, I still think the
Joan's on Third
chocolate and peanut butter cupcake reigns supreme, as it's like an elevated
Hostess Cupcake
with chocolate filling the middle.  BUT Toast's coconut version and the regular yellow cake with pink frosting version (sorta a la old school birthday cake–a personal favorite dessert) were both totally delicious.  In fact, I went back a couple days later solo to answer a craving.  Not this salt addict's usual fix.
So, here's a toast to Toast!  Chin chin, cheers and all that jazz . . . right, cupcake?
xo – N.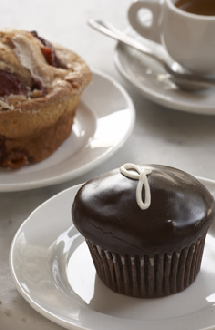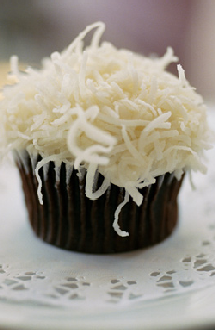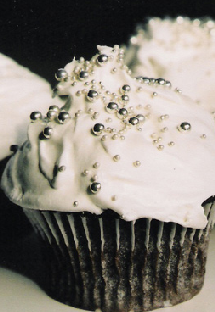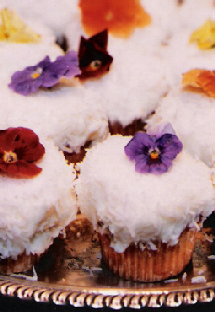 Joan's On Third's Peanut Butter Chocolate Cupcake. (It Looks Like a High-End Hostess, Right?) And Then Some Other Pretty Exquisite Looking Creations.)***
***These pics were stolen from the Joan's On Third site.  It's true.  What can I say?  I just HAD to share them with the world:)
A couple other key LA cupcake spots:
Crumbs
(also in NYC and Beyond)
P.S. For some Beverly Hills sweets action, check out
Food Marathon
's take.