LA (BEVERLY HILLS AND BEYOND): BEST AVIATORS
By Nora Zelevansky / March 5th, 2009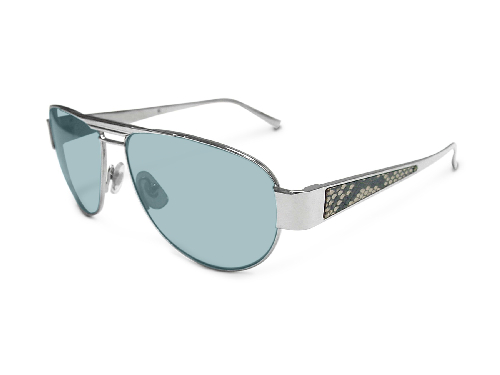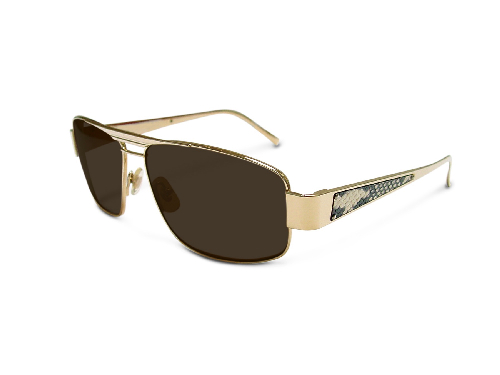 (Platinum Boa and Gold Python Aviators By Sama)
I have an unusually small face.
 Yup.  It's true.  Sometimes I can still pull off larger sunglasses, when there's a sort of a Jackie O. thang going on.  But aviators have always pretty much eluded me, as they give me a kind of droopy stroke vibe (straight to hell, Nor, straight to hell). Until now:
Recently, I headed over to
Sama
's Beverly Hills shop to preview next season's collection and some of the line's standards. They welcomed me (as they do
real
clients) with
Teuscher
chocolates from down the street, so we started off on the right foot.  As you guys know, the way to my heart is through my stomach (and through unabashed compliments–lots of them).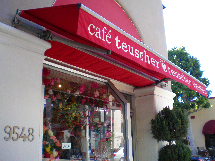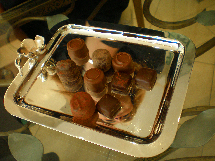 Sama, a super high-end celeb-beloved sunglass line, was founded by designer Sheila Vance and benefits a foundation she created in her son Sam Vance's name, after his drug-related death.  The larger umbrella includes Sama eyewear,
Badgley Mischka
 eyewear and
Loree Rodkin
Eye Couture.  For my particular taste, Loree Rodkin can get a bit heavy-handed: LA, gothic, rocker stuff embellished with crystals. But I have often coveted many of the other collections' goods.
The above aviators with snakeskin detailing (apparently a Brad & Angie pick too–oh well) definitely preoccupied me during this visit, though my snake-a-phobe hubby Andrew believes that one should never wear snakeskin, as any bad karma towards the feared reptiles could lead to a gruesome end. "
They know.  They just know!"
  Well, he may believe in bad snake karma, but I believe in cool sunglasses, so . . . hopefully he's wrong.
Anyway, I also played dress-up with some of their more vintage-style stuff.  Circles are huge this coming season, so I thought I'd try some on for size—maybe my oddly tiny face will work with these?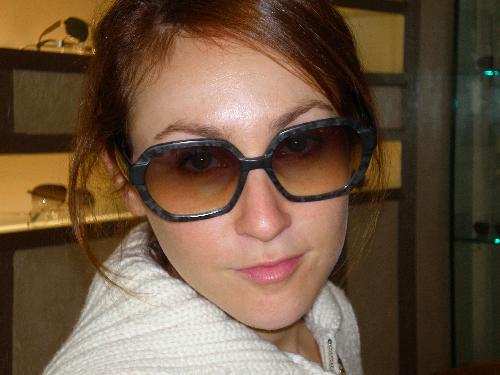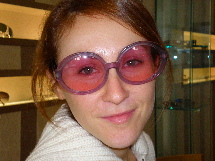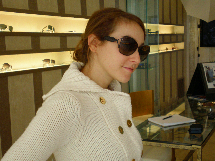 (Never Mind My Bad Hair Day–Just Look At My Fave Cardigan–The Lynne Hiriak Brand–Sweater)
Alas, not the best looks for Miss Mini-Head, but pretty cool all the same . . .  While the aviators are on the 'spensive tip, not everything Sama is outlandish (plus a percentage of proceeds goes to a good cause and actually sometimes
all
proceeds are donated, like in the case of some of the yellow shades–Sam's favorite color–sad). Anyway, it's good to have something to covet, no? Or like fifty things, if you're me.
Dare to dream.
xo – N.