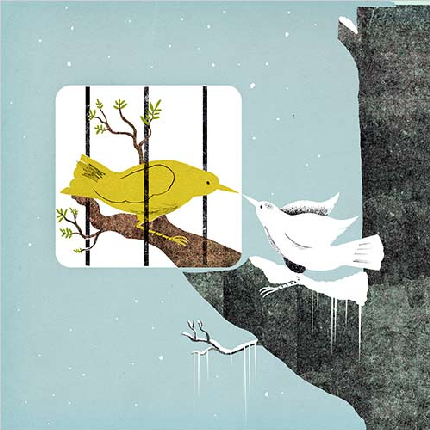 (Amy as a Bird and Her "Jail Bird" Former Hubby by Christopher Silas Neal)
So, some shameless pal promoting, but TRUST ME you'll thank me for livening up your day: an excerpt from my friend Amy Friedman's story, "
Kept Together By The Bars Between Us
" was this week's
NY Times
"Modern Love" piece.
Amy is also one of the authors included in the "
What Was I Thinking?
" anthology and reading from one of last week's posts, but this piece is for another book called "
Stricken: The 5,000 Stages of Grief
" and chronicles her love affair and
marriage
to a convicted felon (
yup, for murder
), while he was still behind bars.
Anyway, it doesn't get more fascinating than that and
Jezebel
(one of my personal favorite sites and my only consolation tone-wise when
JANE
folded) seems to agree, as they blogged all about it.  Amy, who is actually one of the most grounded people I know, which you'll kinda understand that as soon as you read the "Modern Love" piece, is also the world's greatest writing teacher and you can find her courses through UCLA Extension and also
From Page To Stage
.
Oh and her current husband, Dennis Danziger (who happens to be fabulous and free to roam the streets), just became the newest education blogger for
The Huffington Post
.  He's also the founder of the
Mad As Hell Club
, which includes rants on everything from relationships to politics to, well, style (very occasionally by me).
Not one, but two to watch, right?  Birds of a feather . . . or so it would seem.
xo – N.